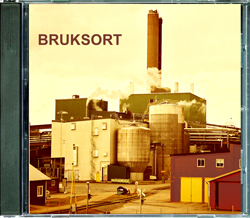 Bruksort
25'24 minutes, stereo soundpiece
This record is based on sound recordings made on site in Rydöbruk and Hyltebruk. Some of the sounds are unaltered while others have been subjected to hard processing. The source is however always the same. It all begins with the river. Just like how the industrial communities once arose along the river, this composition is built around the ripple and roar of the river Nissan. A pulse consisting of sounds captured at the Stora Enso paper-mill slowly grows strong and continues to run alongside the recordings of the river. The two sounds are sometimes confusingly similar, sometimes in direct opposition, but always dependant of each other. When the paper industry developed it was totally dependent of the river in the same way, and now the communities are dependent of the industries. When the production moved from Rydöbruk to Hyltebruk it was more or less a death sentence to the former community.

An edition of 50 signed copies was made for the exhibition "(för-)brukad ort – global ort?" at Konstnärsbyns galleri, Rydöbruk, Sweden, 2002. The exhibition also featured works by Max Liljefors and Juan Castillo. Curator: Martin Schibli. Out of print.